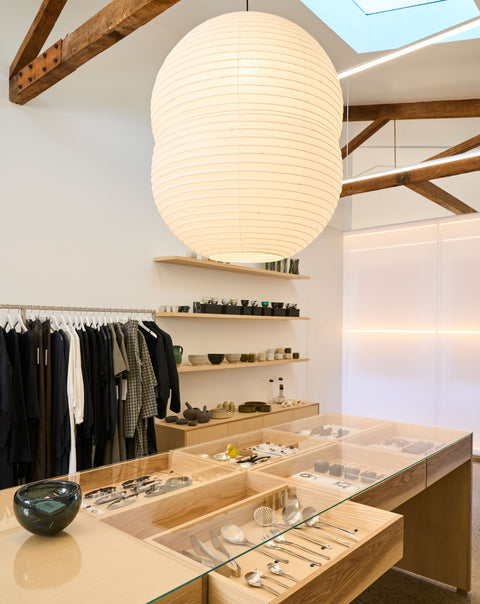 What is the story behind the collecte concept? And other commonly asked Q's
What is the story behind the collecte concept?

collecte has been a long-term dream for owner Az James. The concept of an retail experience wrapped around a curated group of designers and makers sitting side by side within a purpose-designed space had been simmering for some years and the opportunity arose in 2022 to make this a reality.
The experience is grounded in the importance of manaakitanga that is extended to everyone. This is most visible in-store, where the quality of the knowledge, care and personal experience is paramount.
With a degree in textile design and subsequent post-graduate studies in fashion design, Az selected to make a career in exhibition and experience design, which continues today with the other side of the business, Workshop-e. The move with her family from Wellington to Whangārei, allowed everyone to find a place to create, design and share the collecte experience with Northland and the rest of Aotearoa.  
 
James Brown – the label that has been created by Meghan James-Brown (Az's daughter) - is designed and produced in-house, with her studio located just behind the store. Meghan is an advocate of the black dress, and the James Brown label celebrates the significance and ease of this colour to create clothing for the modern woman. A brand dedicated to honouring luxurious natural textiles, considered design, and local manufacturing.
Who designed the store fit out?
Julian James-Brown was the designer for the store and is the Spatial Designer for Workshop e. Having delivered a large number of exhibition projects and experiences as part of Workshop e, this was the first retail experience that he has been involved with.  The design brief was the result of a collaborative process that brought the best of everyone's knowledge and skills – from Ava Gerard providing a long-term knowledge of retail requirements, Az providing the perspective of creative director and user, Jeff Brown providing the skills and background in production (as all of the furniture in the store was also produced by Jeff), and with Julian bringing all of this together into a cohesive design that captures and delivers to all of these requirements.
The design needed to be functional, yet highly visible and recognisable as something new within the landscape of Whangarei, it had to cater to the needs of a shared space that includes a design studio and office, garment design and production studio for
James Brown Label
, and a retail experience that enhances and promotes the designers and makers that are represented. 

Which New Zealand fashion designers do you carry?
 
We carry a range of New Zealand's best designers, who specialise in both Menswear, Womenswear and some unisex pieces. Our list includes the likes of, Company of Strangers, Duncan Mclean, Jimmy D, James Bush, James Brown, J Palm, J'ake Studios, Lela Jacobs, Mahsa, Masami, Matt Nash, Mina, Otsu, Ovna Ovich, Papa Clothing, Krysztof, Standard Issue and Thom Morison. Our designers pay great attention to detail and the use of quality fabrics, all made in New Zealand / Aotearoa.
You'll also find handmade shoes from Bronwyn and German brand trippen. Eye wear by Age and NZ made Jewellery from 6x4, Camille Paloma Walton, Hands Of Sand, Maike and Sandra Shcmid. 
 
Which ceramic objects do you stock?
 
We mainly showcase New Zealand made ceramic objects with some Japanese makers in the mix. Our list includes the likes of Mark Mitchell, Madeleine Child, Nicola Shuttleworth, Fire and Earth (Julie Cromwell), Richard Beauchamp plus Japanese ceramics Ninshu and Marumi Yasuda Kawara. Our ceramics are all of the best quality and made by hand. 
What other homewares do you have?
We have a beautiful range of rock mortar and pestles from Homeground, scented candles by Knot Bad Collective, hand blown glass objects by Matthew Hall, Danish designed homewares from Menu, Japanese tinware by Nousaku and Japanese stainless steel utensils by Sori Yanagi.